We praise God for the wonderful visit of Prof. John Ude and Rev. Matt in the CLCI in the month of July 2012.  We praise God for enabling us to have wonderful seminary classes and also visit to few CLCI congregations with Prof. John Ude and Rev. Matt.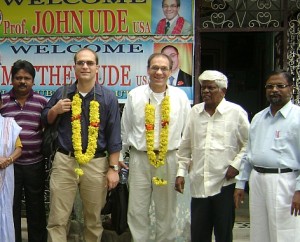 Prof. John Ude taught wonderful lessons on Genesis. Prof. John Ude touched the hearts of the students with his lessons from Genesis 11-12 – Babel & Abram and also from Genesis 16-18, the relation of Justification and Sanctification. Rev. Matt also taught wonderful lessons from Genesis and showed power point presentations on Jacob, Noah and me (Presentation on Eschatology.)
Then we were also able to visit few CLCI congregations and have gospel meetings, this in turn helped to encourage the CLCI members with the Word of God.  Prof. John Ude preached on CLCI congregation at Machavaram, Yajali ST Colony and Khajipalem village tribal CLCI congregations. We praise God for helping us in our efforts to proclaim Christ through Prof. John in these Tribal areas also.  The sermon preached by Prof. John comforted and touched many hearts of members of the CLCI. Members enjoyed Prof. John's preaching on Babel from Genesis.  At the end of the each service, Prof. Ude heard every prayer request of the members and prayed for them.
The CLCI orphans and CLCI Sunday school children also enjoyed the wonderful presence of Prof. John Ude and Rev Matt. From the bottom of our hearts we thank Prof. John Ude and Rev. Matt for their kind visit to the CLCI. God honored Prof. John Ude's efforts here in the CLCI because we have seen the happy faces of children and also many CLCI members benefited by this wonderful visit. This is nothing less than a great blessing to the CLCI.
Additional Articles