Orphanage
There are over 44 million of bonded, working children and orphans in India. Gone were their dreams of studying. Gone was a life of self-respect. Gone was their hope on life. It is just work, bondage, abuse, and begging.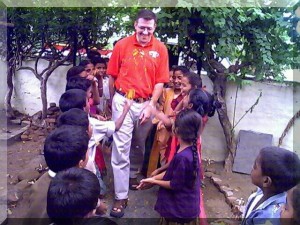 For many years Pastor V.S.Benjamin had been praying to the Lord to establish an Orphanage here in Nidubrolu. The CLCI orphanage resulted from the vision of Rev. V.S.Benjamin who felt the need to do something for the orphans who are not being cared for, many living on the streets. However the day had come that which the problems of such children have been solved in Guntur district area of Andhra Pradesh State in India, with the help of respected CLC – USA. We believe God has chosen His people from the honorable CLC-USA to show His love by taking action and caring for these orphans. (James 1:27) Based on this faith, our CLCI orphanage is dedicated to taking in the orphaned children and bringing them into our hearts and into our Orphan center. Pastor Benjamin said that a flow of joy came into my soul from our adorable Lord when I received a letter from Mission Board of CLC about the establishment of an orphanage here in Nidubrolu.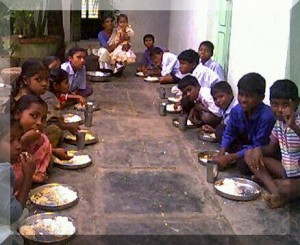 First orphan, Suhasini came into Pastor Benjamin's Home in 1979 as one-year baby girl. She was found in the fields while Pastor Benjamin was visiting a village congregation. We have started our orphanage with Suhasini. Now our Orphanage is expanded to 32 orphans. All the children come from very poor backgrounds. With medication and good diet, their physical condition has improved fantastically and they have settled down well at our CLCI Orphanage. These children never having been to school before due to lack of family care. Now the CLCI orphanage has been providing them with good education. These children have faced much bitterness in their childhood, but all that bitterness has been taken away from them, and now they are happy and enjoying their studies. Now there is lot of improvements on every phase of their life style. Now the children are wearing better clothing and enjoying good health.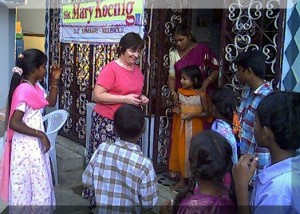 The orphanage has an atmosphere based on love and compassion that is touched by God's love. This unique home provides an effective method of meeting both the spiritual and physical needs of each orphan. The CLCI orphanage provides beneficial, nurturing care to parentless infants, children, and adolescents. A healthy, flourishing environment filled with love and songs can be heard from every corner of the orphanage. In our Orphanage we have been teaching them good Christian education to our boys and girls. With the help and assistance from CLC now our Orphans in our CLCI Orphanage, were able to study and their "once tired eyes" sparkle with the fire of a hopeful tomorrow. They have been loved and wanted into the hearts of our CLC America and India members. Our CLCI Orphanage has been doing it and we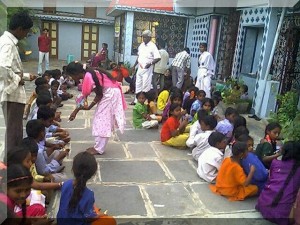 have been contributing to tomorrow's future and have been helping India's forgotten children with the great support from CLC – USA. CLCI Orphanage was established with the following main aims. The chief aim was for the glory of our Lord Jesus Christ; that is, it might be seen that it is not a vain thing to trust in the living God. And the second aim was the spiritual welfare of the orphan children, and the third their bodily welfare.
Abandoned, needy children continue to find their way to  the CLCI family's doors, where every effort is made to provide them with food, shelter, education and hope. In sum, "all the love and care a mother would give." They have been receiving the greatest mercies of God. To that end may God's love and light continue to enfold them till glory beckons at journey's end.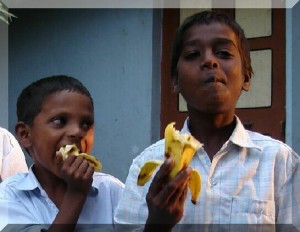 Letter from one of our Orphan Rajasekhar
Greetings to all of you in the Name of our Lord Jesus Christ. My name is Rajasekhar. I live here in the CLCI Orphanage. I am 9 years old and I am in the fourth grade, we learn Telugu science and Maths. Here we are studying very well. We have good Food, school books and pencils, cloths and a ball to play. We play games like volleyball, foot Ball, cricket, kabadi, etc… We go to church on Sundays and Fridays. Here we eat rice, meet, vegetables, eggs and drink Milk and butter milk. Thank you for your love and sponsoring me.
Self Help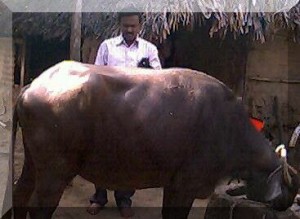 With a great support from the respected CLC a "self-help" program has been implemented in the CLCI, with the purchase of water buffaloes for poor pastor's families. These milk-producing water buffaloes provide an extra income for the pastors so that they could utilize their full time in the Gospel service. Under this project, 36 pastors have been benefiting. In future also we are looking forward to implement many other self help projects for the CLCI poor pastors and poor members. This self-help program has been very successful. For more information, click here.
HIV/AIDS awareness program by CLCI-2010
Is HIV or AIDS a punishment or judgment from God? In the minds and hearts of many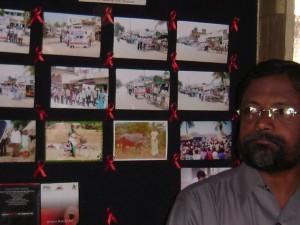 believers, the answer is clearly, "No! Absolutely not!" This pandemic is a tragedy.
It does, however, present people of faith with the opportunity to be faithful witnesses to God's love and healing grace, even in the face of suffering, death, and grief.
During the last year 2009-10, the CLCI has developed effective programs to the health of hundreds of people who are suffering from various diseases especially from HIV/AIDS. The CLCI's HIV/AIDS programs include support for home-based care, awareness and prevention.
Some of our CLCI pastors have taken special HIV/AIDS awareness classes with the help of Aids Control Project, Hyderabad.
Many of our programs include some level of HIV awareness or support people living with HIV/AIDS, even if it is not a formal component. For example, our many nutrition improvement programs reach out to many vulnerable groups, including people living with HIV/AIDS.
We work closely with affected communities to develop innovative solutions that are appropriate for their environment, and we provide daily used commodities and medicines so they can continue to live on with the love of Christ.
Jesus said, "The Truth shall set you free," (John 8:32), and yet people too often deny the truth, or avoid learning about HIV/AIDS because of fear.
It is the responsibility of all the believers to educate themselves and all who can be reached. Many people have fears about the risks of contracting HIV/AIDS; that fear can be overcome with facts.
With the facts about how HIV is transmitted, people of faith can remain sex-positive while remaining HIV-negative.
The CLCI has been improving a program of promoting and increase attendance in schools and promote counseling of HIV/AIDS patients; aid the families and patients in home-based care through distribution of medicines and nutritious foods through a network of local CLCI pastors; and aid the convalescence of patients in the pediatric and infectious diseases wards in the Aids Control Project-Hyderabad.
The CLCI has assisted nearly 500 people. Following the example of Jesus, our CLC
I special volunteers are called to eat with people with HIV/AIDS, and to share their home with them (Matthew 25:6); to touch people with HIV/AIDS and give them intimacy (Matthew 8:2-4); and pray to heal people with HIV/AIDS (Luke 17:11-19). A faithful, intimate presence in the lives of those with HIV/AIDS, witnessing to them of Jesus' healing touch, is one of the most important responsibilities of the CLCI. Thank you.
—- by Pastor Jyothi Benjamin
Flood Relief Activities  – 2009
"..My grace is sufficient for you, for My strength is made perfect in weakness…" 2 Cor 12:9
The floods in the year ending of 2009, has changed all our lives very busy. We had never witnessed a tragedy and destruction due to sudden Krishna river floods on such a large scale.   With this sudden flash floods, hundreds many people have been thrust into more poverty, who have lost everything, including their farming equipment. We were deeply moved by the trauma they have suffered. They desperately want to enter into their livelihoods for the men to go back to the agricultural fields and the women to resume their livelihoods. The loss of property and seven lives due to these floods left our flood affected CLCI congregations with the saddest feelings. While thousands of people have rendered homeless due to these sudden flash floods, more than 1250 families have directly connected to the CLCI, have lost their huts and their belongings including cattle. They lost their source of living and sense of security. These floods became unprecedented calamity for the CLCI.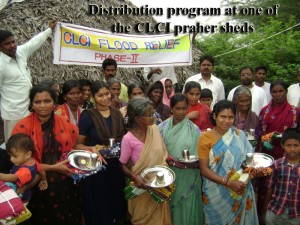 Under these circumstances, with great courage, with the tremendous support form the respected CLC-US; the CLCI immediately stepped in. It was to rebuild the CLCI in the flood affected areas. We worked tirelessly to save lives and give sustenance. It was a massive rescue and relief effort. We immediately set about the task of rebuilding the lives of flood affected members. We have done relief efforts very successfully as follows.
The CLCI has implemented recovery program through the following measures: (1) Removal of Rubble: our CLCI volunteers helped in removing of rubble before the process of repairs to the huts.  (2) Setting up of temporary / interim shelters: The CLCI facilitated the availability of temporary shelters for homeless by arranging rented tents so that affected members can stay there for the intervening period. (3) Repair of damaged roofs: Our Volunteers have also given a great assistance during repairs of the huts, roofs and walls etc.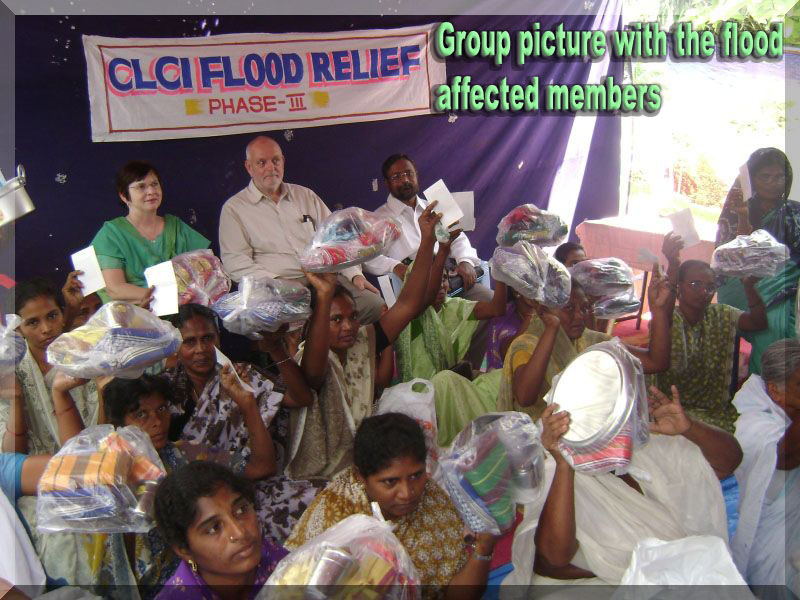 to the affected members. We have done maximum repairs in strengthening of many huts to withstand better.
The relief process has become little slow because while the real victims are busy trying to get their huts in order, removing the rubble from their houses, etc, the other nearby village people who are not our members and who are not affected (or in general stronger people) are coming to claim relief materials. So it has become also an important step in communication clearly with our CLCI pastors and the affected members of the CLCI. We have decided to restrict our relief efforts to our CLCI members only by helping them get back to normal life.
First phase of the flood relief program: Under this first phase relief program, we have assessed the damages in all the flood affected CLCI congregations, and develop a feasible scale of assistance for the affected members.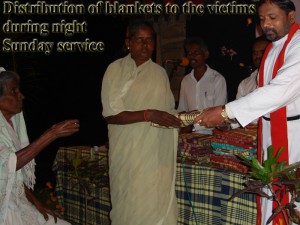 Many of our members have lost their belongings, paddy and have been suffering from partially and fully damaged houses due to heavy floods. On the first phase of flood relief program, we have made some immediate efforts to distribute cooked food and emergency used cloths like blankets etc to the victims. We have served cooked food and biscuits in more than 20 flood affected villages for our CLCI members. We have served cooked food (rice and vegetable sambar curry with paper plate) twice a day for two days for more than three thousand affected members in nearly 20 villages. Also many of our members have suffered from contaminated diseases because of the polluted drinking water. Due to the effect of the disaster, almost all the water has polluted, thus becoming a cause to spread various dangerous diseases like Diarrhea, Dysentery, Typhoid, Cholera, etc. These diseases attacked many of our people. Because of this reason we have conducted several medical camps in various CLCI flood affected congregations to save our members from contaminated deceases. For these we have provided medicines, bleaching power, and phenyl. Also we have conducted a special medical camp for cattle.   Sixty eight of our CLCI families lost their cattle, mainly water buffaloes which are the main source of their livelihood.
Second phase of the flood relief program: After successful completion of the first phase, with the tremendous encouragement from the respected CLC, we have started this second phase of flood relief program.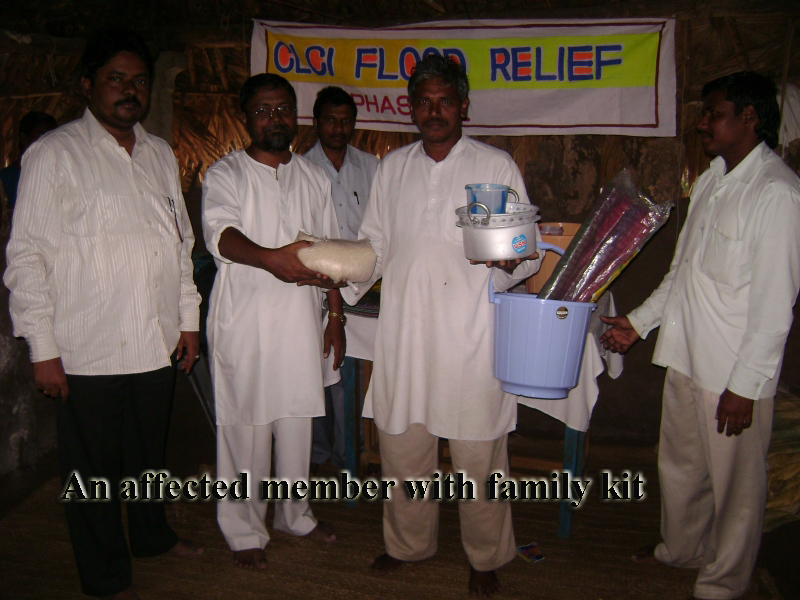 In this second phase, CLCI volunteers have again come forward to supplement the efforts to provide relief to the affected members. In the month of December 2009 we left as a team from Nidubrolu to the flood affected CLCI congregations to do the second phase relief work. With your great help, we have been doing a series of programs for economic rehabilitation and livelihood restoration. We have developed a schedule for distributing extra rice, sleeping mats and family kits, etc to all the 1250 affected CLCI members. Each family kit contains one stainless steel dining plate, one stainless steel tumbler, one rice bowl, one curry bowl, one plastic bucket, one plastic jug, one blanket and one towel. Also we have provided 5kgs of extra rice and one plastic sleeping mat to the entire flood affected CLCI members.  It took several weeks to complete this second phase of relief program. The situation is changing and improving day by day as the CLCI flood relief efforts continue on their way. Rehabilitation is what we have focused on – this not only makes affected members self-sufficient again, but also this is a need expressed by many of the CLCI flood victims themselves.
Third phase of the flood relief program: Under this phase three relief program, we have done few important things. We have helped for repairing the 12 damaged churches and 36 prayer sheds.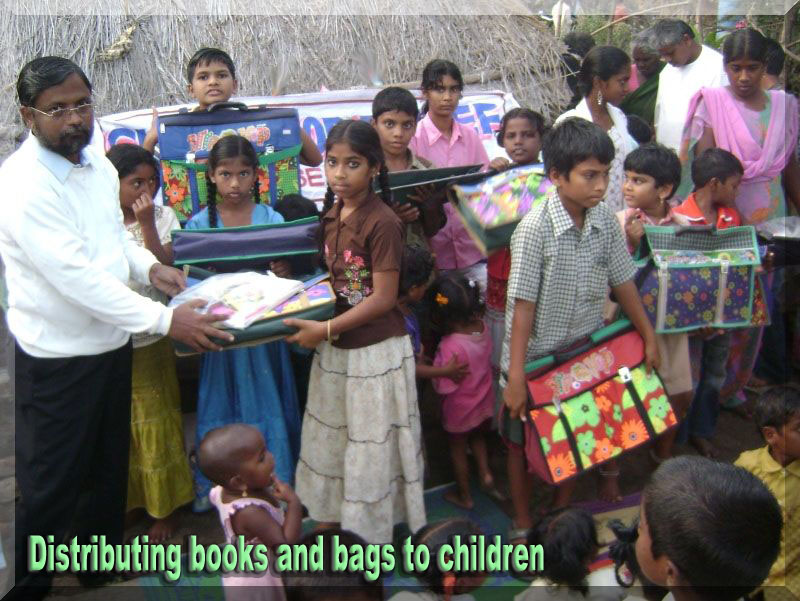 We have repaired some of the Church floorings, provided asbestos sheets and cement posts to support repairs of the damaged churches. Also we have provided palm leaves and bamboos to the damaged prayer sheds. We feel so sad for the terrible death tragedy we have witnessed after the floods. One terrible feature of these flash floods tragedy is that seven members are dead.  We have helped those families who have lost their dear ones. Also your help have given much encouragement to the women made widows by the flood. For the care of our CLCI school children who have lost their books by the flood, we have distributed school kits to the flood affected CLCI children. These school kits contain needed text books, note books, pens and pencils, lunch boxes, water bottles, slates have taken into account. Under this project more than 650 kids have benefitted. Also we have helped 68 families who have lost their water buffaloes, which are the main source of their livelihood.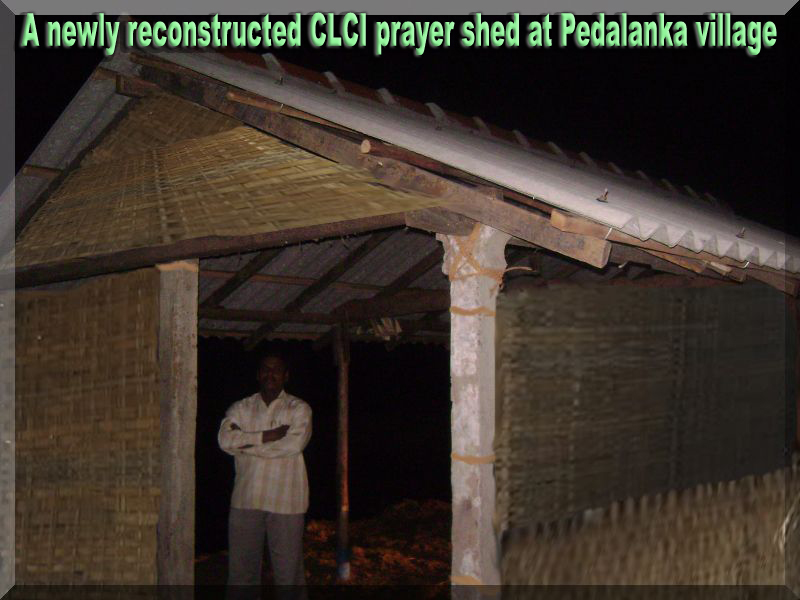 All most all the flood affected members have been recovering quickly from the crisis. Electricity is restored in all most of the villages. Drinking water is also restored. It is in these times, we think how tiny we are as human beings when compared to nature. But with our Lord's grace, it makes a great difference to the lives of your fellow devastated Christian brothers, though we cannot fight against the Nature.
We have done the relief programs with much hard work and plan. Please see the flood relief pictures in the Albums.
Thank you
Pastor Jyothi Benjamin.