We praise God for the wonderful visit of Bro. John Rohrbach from 17th December to 4th January 2011 in the CLCI. We praise God for enabling us to have wonderful and blessed Christmas and New Year time with Bro. John in  visiting  few  CLCI congregations  and gave  assistance  and  undertake  some  of  the  church construction programs.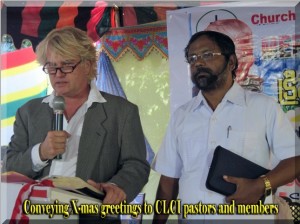 We are glad to report that Bro. John gave very good assistance to the CLCI Children, poor pastors and students and widows. Bro. John donated many fruit and flower plants of worth many thousands of rupees to various CLCI churches and encouraged and instructed members to develop the church gardens which would give much profit to their church as well as peace to their souls. Bro. John distributed clothes to the CLCI pastors' families and seminary students. Bro. John presented many hundreds of gifts such as notebooks, lunch boxes, dining plates, pens, pencils and new testaments to the CLCI children at various CLCI congregations. Also many of the widows and old aged women in the CLCI received new Saris from Bro. John.
Bro. John visited 9 CLCI congregations in three districts and prayed for many hundreds of members. This special visit by Bro. John Rohrbach became a source of joy to the many hundreds of CLCI members.
Additional Articles